Taking care of an older member of your family is a valuable work. For some people it brings joy and sense of belonging. It also allows to create a stronger bond with your relative. However, we all know how demanding and hard this work is. Studies show that an informal caregiver role puts a person at higher risk of facing mental and physical health issues. (Gérain and Zech, 2019) Therefore, the challenges that come with the caregiving work should not be underestimated.
The good news is that if you are an informal caregiver, you are not alone. The last European Quality of Life survey from 2016 shows that depending on the country 9-34% of its total population is involved as an informal caregiver. This number includes answers from people aged 18 and above who provides informal care at least once per week. (Zigante, 2018) European average of 17% means that every 5th or 6th person around you is an informal caregiver. Which in fact builds a huge community of people going through very similar experience of taking care of their relative.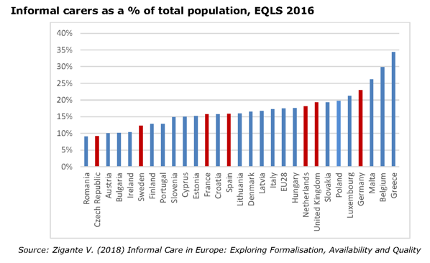 Think about your circle of friends. Most likely there are couple of people you know that are also taking care of their grandmother with dementia. Or uncle who had a stroke few years ago and now has difficulties with walking. Or elderly father who has bad eyesight. We all have this distant or close relative who requires some help whether it's with daily routine or with doing a weekly shopping. We all sometimes are tired and frustrated with our responsibilities. But for some of us it's more challenging than for others.
This is why in each country there are local organizations that were created to help people deal with caregiver burnout and other arising challenges. They bring together a community of people who go through similar challenges and experiences. That's the place where you can get support and good advice. In Estonia, there is an organization called "Dementia Competence Center" that helps families where there are people affected by dementia. They help not only elderly people themselves but provide support to their relatives who are informal carers.
If you feel stuck with your role of caregiver, please reach out to your local community. There must be similar organizations, helplines or facebook groups to help you out. Sharing your experience and talking it through can bring a big relief. Remember that you are not alone.
Anastasiia Turusinova
University of Tartu